Alfred Boucher
Alfred Boucher
Alfred Boucher was born in 1850 in the village of Bouy-sur-Orvin, approximately ten kilometres from Nogent-sur-Seine. His family moved to this last town in 1859, when Jules Boucher became a gardener for the sculptor Marius Ramus. The young boy discovered sculpture at a very early age and manifested a talent that was encouraged by his mentor. He involved him in creating the decor for the theatre in Nogent-sur-Seine: the young Boucher created a Crayfish fisherman (in the lobby room, a work that has disappeared) and part of the grotesque masks that adorn the façade. Ramus introduced his young apprentice to another sculptor from Nogent, Paul Dubois, who helped him to obtain a scholarship to enter the Beaux-Arts de Paris at the end of 1871. As a student of Augustin Dumont and Paul Dubois, he competed for the Prix de Rome from 1875 to 1879, with his best award being the second grand prize (Jason and the Golden Fleece, 1876). However, he spent a long time studying in Rome, funded by Paul Dubois (1877-1878). During his school years, he met the young Camille Claudel in Nogent-sur-Seine and became her first teacher.


La maison natale d'Alfred Boucher à Bouy-sur-Orvin

La façade du théâtre de Nogent-sur-Seine © Didier Guy
Alfred Boucher exhibited his works at the Salon des Artistes Français from 1874 onwards and they were regularly acquired by the State. A string of successes made him a household name: Eve après la faute (Eve after the fall) (2nd class medal, 1878), Vénus Astarté (classification outside the competition, 1880), La Piété filiale (Grand Prix du Salon, 1881). This last group portrays an episode from Roman history in which the elderly Cimon, imprisoned and condemned to die of hunger, is saved by his daughter who breastfeeds him. The State commissioned a bronze sculpture of the group from the artist, which was his first public commission and his first monumental bronze sculpture. Through the efforts of Jean Casimir-Périer, then a member of parliament for the constituency, the sculpture was awarded to the town of Nogent-sur-Seine and erected between the two bridges over the Seine in 1886. The Grand Prix du Salon also helped the sculptor obtain a grant to finance another stay in Florence, Italy, from 1882 to 1884.
Back in France, Alfred Boucher conceived one of his most modern works, Au But (The finishing line), a group with spectacular momentum that the artist managed to create (1886). A few years later, he continued his work on the male nude depicted in action with the colossal figure of A la Terre (To Earth) (1890), whose pose is directly inspired by ancient sculpture, but modernised by his depiction as a digger. These two works were acquired by the State for the Luxembourg Gardens (bronze sculpture of Au But, now lost) and the Palais Galliera in Paris (marble sculpture of A la Terre). However, his greatest success was with female nudes. The sensual and elegant marble sculptures combine beautifully idealised bodies with a gentle naturalism that brings them to life. Often, areas left untouched or the folds of drapes highlight carefully polished skin tones. The large marble sculptures of the Salon were acquired by the State: Le Repos (1892) and Volubilis (1897) for the Luxembourg Museum, La Pensée (1907) exhibited at the Petit Palais Museum of fine arts in Paris. Countless smaller reproductions of these works were then produced for private customers in various sizes, in marble, bronze and stoneware.


La Piété filiale à Nogent-sur-Seine © Musée Camille Claudel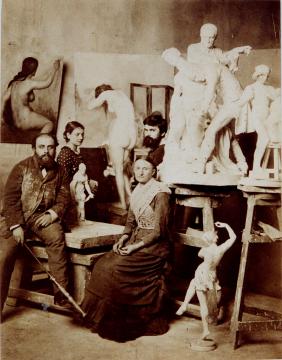 L'atelier d'Alfred Boucher à Florence, 1883 © D.R.

Au But au jardin du Luxembourg © D.R.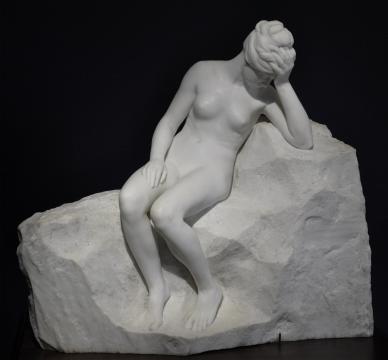 La Pensée, réduction en marbre dédicacée à Victor Champier © Yves Bourel
The artist's highly official career also afforded him numerous public commissions: Monument aux Enfants de l'Aube (Troyes, 1888), Monument to Eugène Flachat (Paris, 1897), L'Inspiration for the façade of the Grand Palais (1900), Monument to Auguste Burdeau (Lyon, 1903), Monument to doctor Ollier (Lyon and Les Vans, 1904)... Private individuals commissioned funerary monuments from him, the most remarkable of which are the allegories on the tomb of Ferdinand Barbedienne (Père Lachaise cemetery, 1894), the mausoleum of the Hériot family (La Boissière-École cemetery, 1901), the Sassot tomb (Nogent-sur-Seine cemetery, 1907), and the tomb of André Laval (Passy cemetery, 1913). He used his mastery of the female nude, both draped and undraped, to create allegories of pain, memory and posterity. After the First World War, his activity diminished and focused on war memorials. He created them by means of the innovative technique using quick-setting cement, for the municipalities to which he was associated: Nogent-sur-Seine, Bouy-sur-Orvin, Aix-les-Bains, where he had been living and working back and forth with Paris since 1885, and, not far from there, La Tour-du-Pin. He also took up painting again, which he had abandoned since the 1880s, producing hundreds of paintings, mainly landscapes and portraits.


Monument aux enfants de l'Aube © collection France Debuisson

Monument aux morts de Nogent-sur-Seine © Abril M. Barruecos

Le Lac du Bourget © Musée Camille Claudel
Alfred Boucher died on the 17th of August 1934 and was buried in the cemetery of Nogent-sur-Seine, in the grave he had sculpted for his wife in 1913.

Tombe Boucher au cimetière de Nogent-sur-Seine © Musée Camille Claudel