Opening of the musée Camille Claudel
Sunday 26 March 2017
Opening of the musée Camille Claudel in Nogent-sur-Seine
Nogent-sur-Seine and around
Cultural heritage
Nineteenth century atmosphere
Walk around the streets of Nogent, the gateway to the Aube department and the Champagne region. Discover the charm of the river Seine's and « Olive Island ». Admire the St. Laurent Tower (43m) and the old half-timbered houses that where a lot of such famous people lived, as Henri IV, Louis XIV, Napoléon 1st in 1814, and more recently, Flaubert and Claudel. Thanks to Paul Dubois and Alfred Boucher the local museum was created with their wonderful works.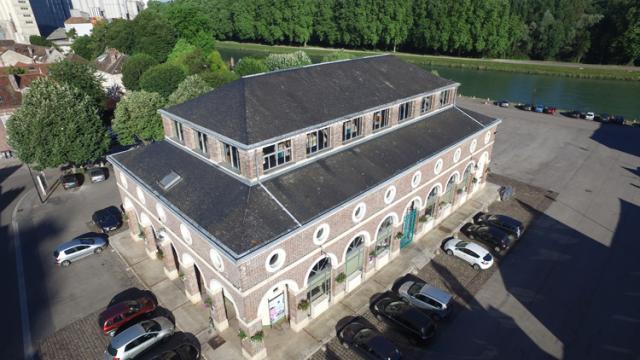 La Halle, lieu de rencontre des Nogentais constitue un élément remarquable du patrimoine bâti du XIXe Siècle

Les Grands Moulins de Nogent-sur-Seine, éléments prestigieux du patrimoine industriel du début du XIXe Siècle © Air Drone Webcam

Le Pavillon Henri IV, lieu d'expositions culturelles, aurait accueilli les amours d'Henri IV et de Gabrielle d'Estrée. Légende ou réalité ? © Didier Guy
Natural heritage
La Bassée, gem of the Seine valley
The Monteuil, living laboratory of the Bassée. From there, there is not far to go (on foot,by bike or by car) on the shores of the lake of Monteuil, a totally transformed, as the « Olive island » to become a living wetland laboratory of Bassée. This former quarry strikes and its surroundings have been gradually acquired by the city of Nogent in recent years.

Plan d'eau du Monteuil, laboratoire vivant de la Bassée. © Air Drone Webcam

L'île Olive, véritable poumon vert à quelques pas du centre-ville et du musée © Richard Journet

Les berges de la Seine et les zones humides sont accessibles aux différents type de randonnée. Il y est facile d'observer la faune et la flore locales © Didier Guy
Everyday life
Top-quality equipements
With its numerous shops, craft and manufacturing industries and its river traffic, Nogent-sur-Seine is a dynamic town with a promising future, offering an undisputed quality of life. The annual trade fair of St-Simon, at the end of october, born of the Champagne fairs of the Middle Ages, as well as funfairs and many events punctuate Nogent's life throughout the year. The traditionnal market takes place every Sunday mornings on the Place de la Halle. Food is very present in Nogent thanks to quality establishments.
Economic dynamism
Handcraft, commerce and industry
Chief town and subprefecture of the Aube department, Nogent-sur-Seine is situated on the borders between the Brie and Champagne regions, 100 km southeast of Paris and 55 km from Troyes. It covers an area of 2,007 hectares (about 5,000 acres) and has a population of 5,600 inhabitants. Its river port, the second cereal port of France and its Nuclear Centre Electricity welcome many visitors each year.

Complexe sportif et culturel, l'Agora Michel Baroin, haut lieu de la vie nogentaise est doté de grandes salles polyvalentes et de salles sportives © Didier Guy

Les entreprises Soufflets, acteur majeur de l'agro-industrie, dont l'une des plus importantes malteries au monde est installée à Nogent-sur-Seine à côté du siège social. Il en va de même pour la papèterie Emin Leydier (recyclage de papier collecté) ou de © Air Drone Webcam
Open call for artist-in-residence proposals, in partnership with the CAMAC contemporary art centre of Marnay-sur-Seine
May 2017
Launch of the call for residency applications, in May 2017
Upcoming – Launch of the call for residency applications, in May 2017
The Musée Camille Claudel (Nogent-sur-Seine) and CAMAC (Marnay-sur-Seine) will launch a joint call for artist-in-residence proposals in May 2017. This artist-in-residence programme is meant to encourage artistic creation, while promoting exchanges and dialogue between the invited artist and visitors to the CAMAC contemporary art centre and the Musée Camille Claudel. This first call for proposals will invite an artist-choreographer to offer his/her critical perspective on both the collections and sculptural creation.
Entrevus-Camille
From 6 to 13 mai 2017
Hands-on workshop
Sign up now for "Entrevus-Camille", a hands-on corporeal mime workshop hosted by the Compagnie Hippocampe.
Information and reservations: +33 (0)3 25 24 76 34
Practical information
Place :
Auditorium
Musée Camille Claudel
10 Rue Gustave-Flaubert
10400 Nogent-sur-Seine
Time :
Activités en lien :
Hands-on workshop
Saturday 20 May 2017
Entrevus-Camille
Sign up now for "Entrevus-Camille", a hands-on corporeal mime workshop hosted by the Compagnie Hippocampe.
Group composition of a short performance based on sculptures by Camille Claudel, to be presented during the European Museums Night on 20 May 2017 at the Musée Camille Claudel in Nogent-sur-Seine.
We invite you to participate in this group experiment drawing inspiration from Camille Claudel's oeuvre to create a collective composition. Together explore the foundations of a unique creative process, the dramatic art of which will initially rely on movement.
The workshops will focus on various mime techniques: body segmentations, dynamo-rhythms and causalities, as well as figures drawn from the corporeal mime repertoire. The goal is to learn how to articulate movement, to lend it a certain dynamic quality, and to develop one's stage presence.
Luis Torreão
Director, actor and corporeal mime instructor. State-certified drama teacher. Director of the Compagnie Hippocampe and its school. Studied corporeal mime in Paris and in the United States under Thomas Leabhart, working as his assistant from 1997 to 2003.
His dramatic creations include: Les Collectionneurs, La chambre de Camille, Labyrinthe 1, Of Men and Women and Traçado. Since 2000, he has taught corporeal mime at the Hippocampe in Paris and has led numerous training courses in France and Brazil.
Opening
Sunday 26 March 2017
Creation by the compagnie Joëlle Bouvier
To mark the opening of the Musée Camille Claudel on 26 March 2017, the Compagnie Joëlle Bouvier presents a performance echoing the oeuvre and creativity of Camille Claudel, inspired by the "sensuality", "dizzying depth" and "fiery spirit" of her sculptures: "Rather than simply copying and setting them in motion, we will draw inspiration from the world conjured by these sculptures. The Gossips, Crouching Woman, The Abandonment, The Mature Age, Dream by the Fire… all of these bodies – full of ardent love, desire, solitude, compassion, heaviness, infinite sweetness or astounding fervour – will serve as guides in our creating a choreography that also evokes Camille Claudel the woman." (Joëlle Bouvier)
In 1980, Joëlle Bouvier created the ESQUISSE company, in collaboration with Régis Obadia. She has co-produced 15 choreographic works performed around the world and co-directed 4 short films awarded prizes at numerous festivals (Official Selection at the Cannes Film Festival, FIPA d'Argent, Prix de la SACEM, etc.).
Her numerous creations include De l'Amour (2002), Le Voyage d'Orphée (2004), Face à face, La Divine Comédie (2006) and Ce que la nuit raconte au jour (2008).
She was awarded the critics' grand prize for Tristan & Isolde, Salue pour moi le monde !, set to the music of Richard Wagner, voted best performance of the 2015/2016 season.

Visitors trails
Sculpture in middle-class homes
After the fashion of the mechanically reproduced prints popular during the 19th century, reproductions of sculptures abundantly adorned middle-class interiors. Reproductions were produced to suit all budgets (in bronze, patinated plaster, Sèvres bisque porcelain, carton-pierre, zinc plated in copper via galvanoplasty, etc.), as well as all tastes. Miniatures in different sizes were also made available.
The boom in the production of bronzes during the 19th century was made possible thanks to three innovations. Firstly, the device invented by Achille Collas, which allowed its users to mechanically reduce or increase the scale of models. Achille Collas was awarded a Grand Médaille d'Honneur for his invention at the 1855 Exposition Universelle of Paris. Secondly, progress made in the sand casting technique, which allowed for the mass reproduction of a given work. Thirdly, the establishment of contracts between sculptors and foundries, which protected the creators' ownership rights and ensured them an income. The manufacturers' success depended not only upon technical advances, but also their marketing talents and their discernment in the selection of artists and oeuvres likely to satisfy the dominant academic tastes of their middle-class clientele. No less than 153 manufacturers were present at the Exposition Universelle of 1889. Among this multitude, a few names stood out, with their boutiques resembling art galleries: Barbedienne, Susse Frères, Thiébaud Frères, Siot Decaux-Ville and Hébrard. Bronze reproductions were a hallmark of the 19th century, embodying the century's dream: the marriage of art and industry, backed by the French state both for economic reasons and as a means of supporting France's image as a nation of the arts.
19th-century sculpture was marked by the manufacture of reduced scale reproductions. In the 1870s and 1880s, contemporary works became increasingly common in the manufacturers' catalogues. Numerous artists created works destined specifically for industrial production. At the same time, monumental works commissioned for the public sphere, such as funereal sculptures, were added to the catalogues. This trend was illustrated, for example, by The Spinner of Bou-Saada created by Barrias for the tomb of the painter Guillaumet at the Montmartre cemetery.
Among the most fashionable subjects were historical themes, female nudes tinged with eroticism and the figures of children. Sculptors did not hesitate to place their talents at the service of the decorative arts, notably in the designing of vases (Cheret, Rodin, Desbois, Dalou, etc.) and spectacular centrepieces (Frémiet and Agathon Léonard).
Sculpture of Camille Claudel's time
The Nogent-sur-Seine collection stands out for its temporal coherence, presenting sculptures from approximately 1870 to 1910, a particularly splendid period for sculpture and especially rich starting in 1880 with the nascent stylistic transformation characterized by a search for expression and meaning.
The section "Sculpture at the time of Camille Claudel" considers how sculptors – attached to the subject and the body's representation, steeped in classical culture and technically impeccable – positioned themselves during this period of transformation, borrowing from various sensibilities according to the subject, or on the contrary limiting themselves to a constant, personal search for expressiveness and meaning.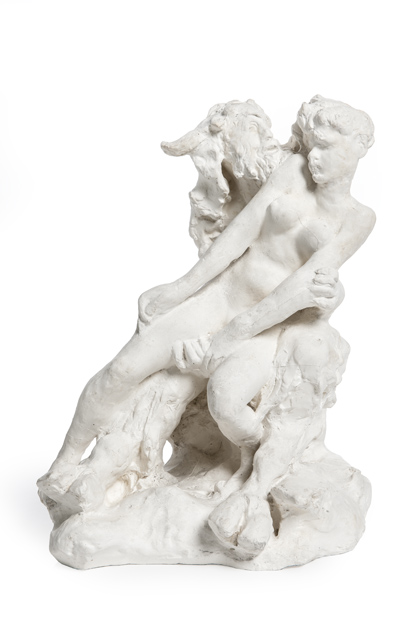 What is the significance of this profusion of sculptures in the public sphere, commissioned by the triumphant French Republic or groups of citizens seeking to pay tribute to their "great men"? This sculpture of the street, the "people's museum", tells a story, instructs, moralizes and adorns. How are mythological subjects interpreted in the academic and symbolist milieus? What is the influence of the rediscovery of the Florentine Quattrocento? Given the confusion of styles present during this period, and the scientific studies in anatomy and morphology taught at the École des Beaux-Arts fine arts school, what canons of the nude female body were adopted? How did this young democracy present the image of "work"? What subjects best evoked this "movement" that so well symbolized the 19th century?

A projection room allows visitors to immerse themselves in the Paris and the Parisian art life of the late 19th century familiar to Camille Claudel.
One at once understands the extent to which, in this context, competition was fierce, especially for a young female sculptor, whose first obstacle was locating a school welcoming women, and then managing to stand out amongst the plethora of sculptors present at the annual Salon, affirming her originality and seeking understanding. While the evolutions in painting during this period – notably impressionism – are well known, those in sculpture are yet to be fully explored. Camille Claudel belongs to the movement initiated principally by Rodin. The contextualization of her creations is therefore all the more rich in meaning.
sculpture in middle-class homes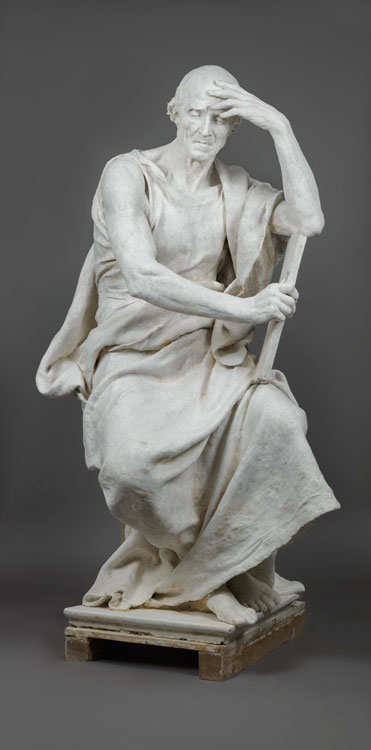 Museum of sculpture
By the quirks of fate, four sculptors, renowned during their lifetime, have resided in Nogent-sur-Seine: Marius Ramus (1805-1888), Paul Dubois (1829-1905), Alfred Boucher (1850-1934) and Camille Claudel (1864-1943). They maintained intergenerational professional relations and held each other in friendly esteem. The museum of Nogent-sur-Seine, created under the impetus of Alfred Boucher, today presents an important collection of sculptures by these four artists, further enriched by numerous works created by their compatriots.
At the height of his success, Alfred Boucher strove to found in Nogent-sur-Seine the museum that had been lacking during his own apprenticeship under Marius Ramus. This philanthropist drew largely from his own personal collection and solicited his friends and acquaintances, while the town acquired the so-called "Château" to house the new museum. The children of Marius Ramus and Paul Dubois also lent their support to the project.
The Dubois-Boucher Municipal Museum was inaugurated on 12 October 1902. On 21 May 1905, the sculpture gallery, housing primarily large-scale models destined for the public sphere, was in turn inaugurated, thanks to the generous contributions of Alfred Boucher's friends and the widow of Paul Dubois. The museum was therefore capable of welcoming the full-scale model for the Joan of Arc equestrian statue by Paul Dubois the very day of the museum's 1902 inauguration ceremony. The museum continued to strengthen its specificity: sculpture from 1870 to 1910. Studio collection donations contributed to the creation of a museum of sculpture and of sculptors. This particularity would be further reinforced by the coherent acquisition policy pursued between 1980 and 2013, peaking with the purchase of works by Camille Claudel from Reine-Marie Paris and Philippe Cressent in 2008. The same year, the town managed to purchase the only monumental marble work by the artist, thanks to the contributions of patrons and the Fonds du Patrimoine national heritage fund (attributed by the French Ministry of Culture).
The radical transformation of the municipal museum – involving the construction of a new 2,400-m2 building, as well as the renaming of the museum (the first in the world to be named after Camille Claudel) – has necessitated a reconsideration of its collection and the redesigning of its exhibition to put into perspective the oeuvre of Camille Claudel and examine the role she played in the artistic landscape of her period.
sculpture in Camille Claudel's time